A Delicious Whoops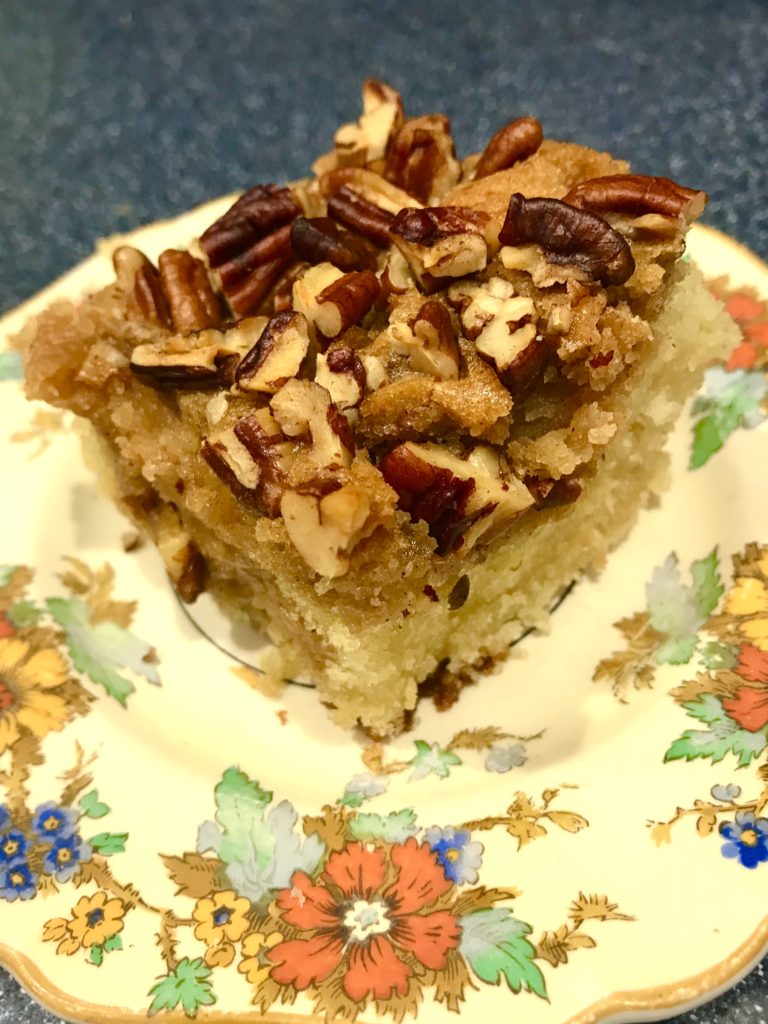 I have a saying when I'm baking/cooking; "Could it possibly be bad?" The answer is often no, if you have two tasty things they are often tasty together. Things did not go as planned in this recipe, but the product was still super delicious. What an endearing metaphor, that is impossible to apply to your life, mistakes usually still taste good. No, they don't, but in baking, they can, and often do.
The thought for this recipe started with me wondering about what's local to Western New York. We have only a few things here to call our own, beautiful falls, brutal winters, a distinct lack of sunlight, and maple syrup. Maple syrup, also known as ambrosia (just kidding, but only kind of), is a truly regional product. Its made in many more places than just Western New York, apparently most of the world's maple syrup is made in Quebec, but each place has its own taste, its own terroir. Anyway, if you know how delicious real maple syrup is, you can understand why I wanted to use it in a bake.
It turns out, there is a flavor wheel for maple syrup, who knew.
Some initial questions about maple syrup and its roll in baking:
How do substitutions work between syrup and sugar?
Is it different for brown or granulated sugar?
How do things change when you use a liquid sugar vs a solid sugar?
I decided, for no particular reason at all, that a maple pecan coffee cake was a way to try to begin to understand maple syrup. I adapted bon appetit's New York Style Crumb Cake.
Maple Pecan Coffee Cake
For the cake:
2 1/2 cups (about 10 oz) all-purpose flour
1 tsp baking soda
3/4 tsp baking powder
1/2 tsp salt
3/4 cup (6 oz) unsalted butter, room temp
1 1/2 cups granulated sugar
2 large eggs
2/3 cup sour cream
2/3 cup greek yogurt
1 tsp vanilla extract
For the topping:
1 1/2 cups maple sugar
1 1/2 tsp cinnamon
1 cup toasted pecans
1/2 tsp salt
1 cup (8 oz) unsalted butter, melted and warm
2 1/2 cups (about 10 oz) all-purpose flour
Method:
For the cake:
Oven to 350° F
Butter a 13×9 baking dish
Sift flour, baking soda, baking powder, and salt into a medium bowl
In a stand mixer, cream room temperature butter
Add sugar and beat until light and fluffy
Add eggs one at a time beating well after each egg
Add sour cream, yogurt, and vanilla, beat just to combine
Add flour mix a third at a time, beating until incorporated after each addition
Move batter to baking dish and spread evenly
For the topping:
Mix maple syrup, cinnamon, and salt together in a medium bowl
Add melted warm butter and stir well
Add flour and mix
Add toasted nuts
Spread over the cake batter
Bake for approximately an hour, check cake after 45 min by inserting a toothpick and seeing if it comes out clean
Cool on wire rack
The idea was to generally replicate their recipe except to use maple syrup in the topping instead. It may be obvious, but I wasn't sure what would happen if I substituted a liquid sugar for solid sugars, but I thought this would be a good way to figure it out. I assumed that regardless of the state, the flour would cause clumping, but I was wrong! Instead, it resulted in a batter like substance that I wasn't able to turn into clumps. So I ran with it, and that is the instruction you see above.
During the bake, the topping dropped into varying depths of the cake, and some remained on top as well. It created a wonderful marbling throughout the cake, which can sort of be seen in the picture below.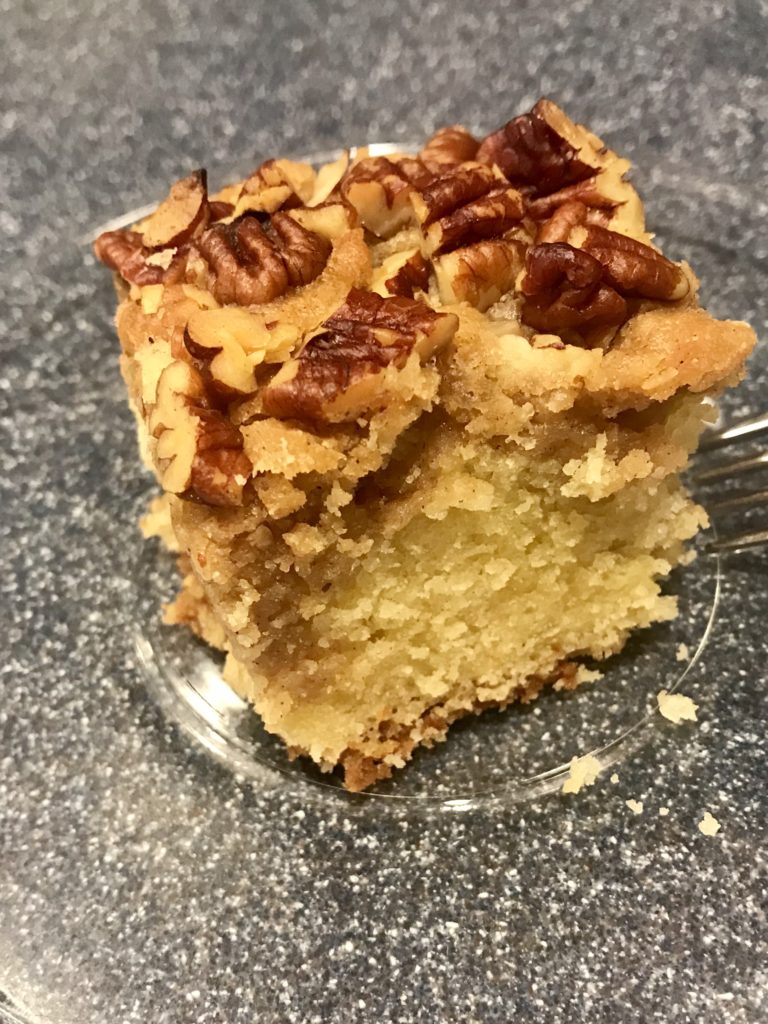 Next time I try this, I plan on creating maple sugar to try for the topping. After deep diving on maple syrup for this article, I realized I could just solve the issue of substituting a liquid for solids by making the liquid a solid.
Regardless, I was still happy with how this turned out, the marbling of the topping made it feel unique and it made it so that every bite was a little different.