A Swedish Cardamom Bun:
I, like every sane and good person, love the The Great British Bake Off. Henry Bird from last season was my 'pony', my choice for who was going to win, so I got super excited when I found his Chocolate Kardemummabullars recipe.
I saw the picture and immediately knew I wanted to make them. Beautiful pastries that are supposed to go with coffee (the only thing I may like more than pastries themselves), and they have cardamom. I needed no more reasons than that to bake them, but they also had the most ridiculous name, so I couldn't resist.
The only thing that Henry's recipe left out was a clear idea of how to twist and roll these buns into their shapes. I found this YouTube video very helpful (just jump to 3:15) :
I should note that I didn't follow this video exactly. I did twist the two 'legs' of the dough individually, and opposite directions, like Henry does, and then followed the video for the 'winding' of the buns.
So I went ahead and made them, and then joyfully ate them. They smell totally intoxicating, honey and cardamom as soon as your face gets anywhere near them. At first bite, you get honey, maple syrup, cinnamon and in the background cardamom. Its a light dough, albeit a little dry. A truly delicious thing, made for fika.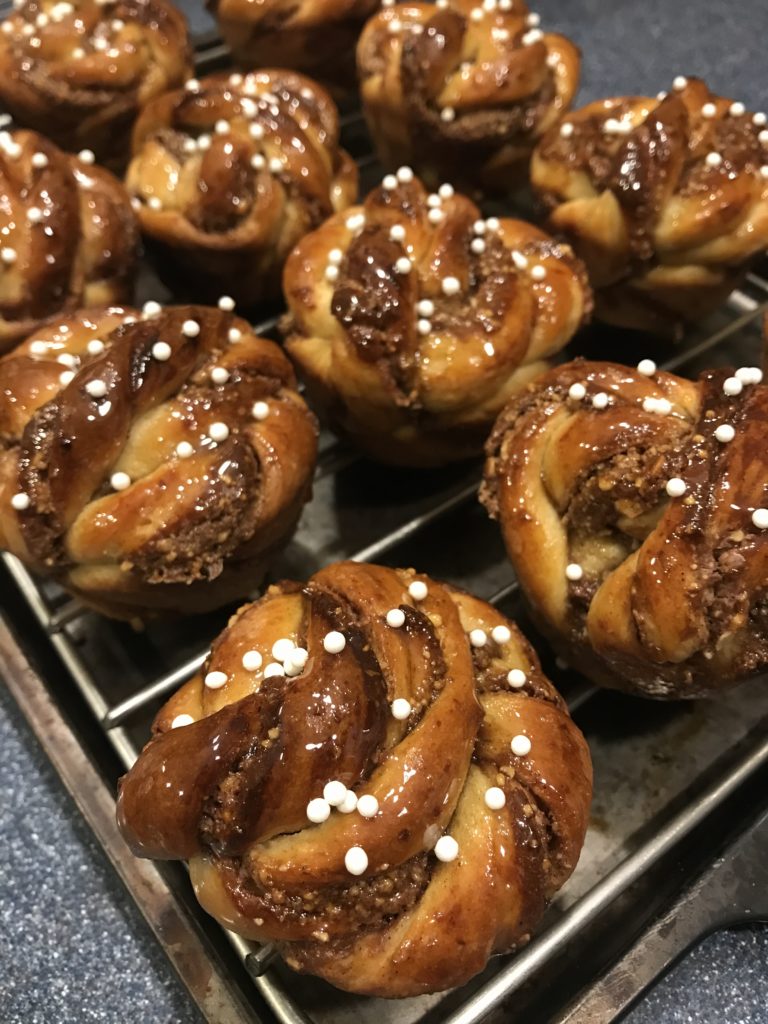 This was an incredibly fun bake from start to finish, and it resulted in a beautiful, delicious product, but now, I have questions.
Questions and thoughts:
The dough ultimately was a little dry for me. In the context of a cup of coffee, which is how these are meant to be enjoyed, it's just right, but as a stand alone thing they were too dry. I wonder if a tangzhong is the move? Or perhaps, I should just substitute out this dough for the genius dough that Sarah Kieffer, writer of the Vanilla Bean Blog, uses in her cinnamon rolls, which are the softest, gooiest, most delicious cinnamon rolls ever. I think another potential solution to the dryness might be more glaze.
Beyond the dough, I had some qualms with how the flavors rang through. I got cinnamon first and cardamom second. I, and my other tasters, got no hint of either chocolate or almond. I was hoping the order of flavors might be cardamom, chocolate, almond, and then cinnamon.
Possible adjustments for next time:
Get rid of the cinnamon all together.
Increase the amount of chocolate crème pâtissière, which might help with the dryness of the dough as well.
Add toasted almonds on top, which should help bring out the almond that is in filling
Maybe add a little almond extract to the dough.
If any of you have thoughts on how to improve the kardemummabullars or how to achieve my desires, let me know!
I'll report back when my tasters are lucky enough to have them grace the kitchen again.