An exercise in understanding the difference between melting and creaming butter
Molasses cookies are not something I would associate with much of anything. It seems that most people who enjoy molasses cookies have some sort of nostalgia for them. No, for me, they are interesting for two reasons; one, they are a very simple and a quick recipe. Two, they are an opportunity to play with big flavors. I love the heat that can come from ginger, and I love the idea of dessert's flavor that goes beyond just sweetness.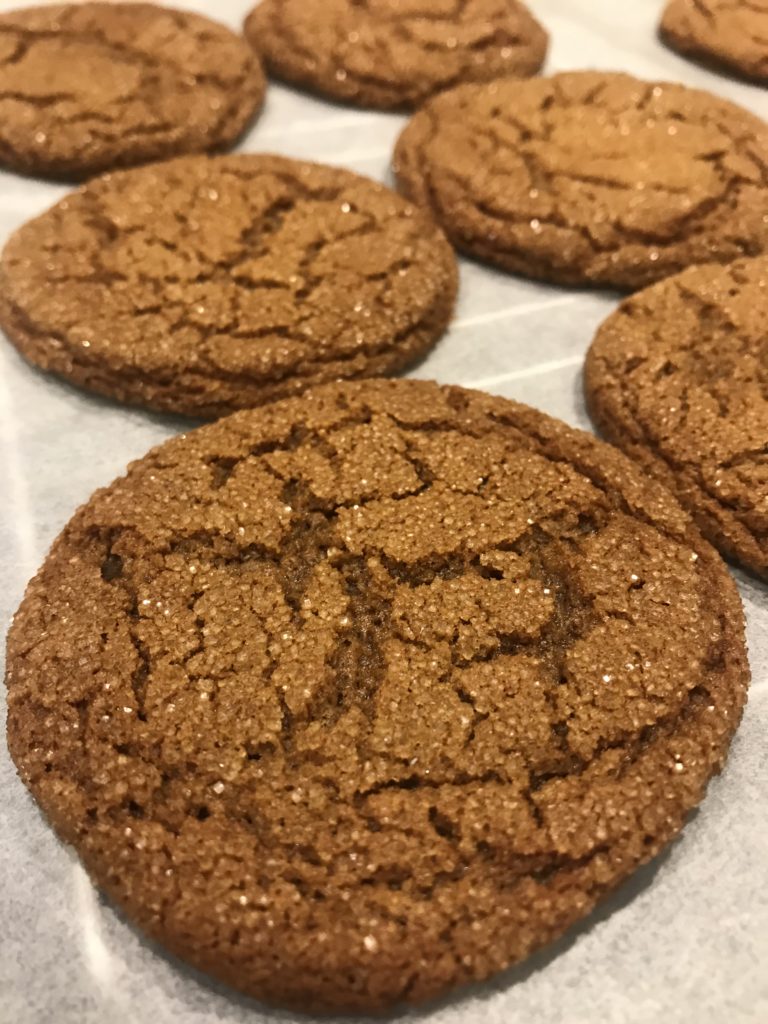 The first time I went to bake them, I realized very quickly that people have a wide range of opinions on how they should be, and the recipes reflect that. Initially, I selected Allison Roman's Chewy Molasses Cookies, which produced excellent results (I did add some more spices: 3/4 tsp of ground cloves and about a 1/4 tsp of nutmeg): very chewy, moist, and soft cookie. But then after my partner said that they were close to her great-grandmother's, which her mother confirmed upon tasting, I was curious what that recipe was. Which then made me curious about the differences. I proceeded to look at 23 more molasses cookie recipes, which generated a plethora of questions:
What is molasses?
What is the difference between light and dark molasses?
What happens when you melt the butter vs cream the butter?
What happens when you use shortening vs butter?
What is shortening?
How do you bring out the heat of ginger?
What happens if you use fresh ginger?
As you can see from the links, many, if not all, of these questions were just a Wikipedia page away, however, these questions made me realize that molasses cookies would be a great way for me to test and try to find some of these answers for myself.
So, I made two of the exact same recipe except in one I creamed the butter and chilled it for an hour*, and in the other I melted the butter and chilled it for 20 minutes*.
I started with an adapted version of the aforementioned Allison Roman recipe. I wanted more general spiciness and I was looking to achieve heat from the ginger as well, so I again kicked up the spices:
2 Cups (8 1/2 oz) all-purpose flour
2 tsp baking soda
1 1/2 tsp (3g) cinnamon
2 tsp (4g) ground ginger
3/4 tsp (2g) cardamom
1/4 tsp (1g) nutmeg
3/4 tsp (2g) ground cloves
1/2 tsp kosher salt (I like to use a coarser grind so it stands out)
1 large egg
1/2 cup (4 oz) unsalted butter, melted (or soft)
1/3 cup granulated sugar
1/3 cup dark molasses
1/4 cup packed dark brown sugar
Coarse sugar for rolling
Method for melted butter:
Preheat oven to 375 F
Measure out spices in small bowl, taste and adjust
Sift flour and baking soda into a small bowl, add spices and whisk to combine
Whisk egg, melted butter, sugar molasses, and brown sugar into medium bowl
Mix dry ingredients to combine
Cover with plastic and chill mixture for about 20 minutes*
Place coarse sugar in a shallow dish
Scoop a Tbs of dough and roll into balls and then roll in sugar
Place on parchment lined baking sheets 2″ apart
Bake for 8-10 min (in my oven it was 9 minutes 35 seconds)
Wire rack to cool
Method for creamed butter:
Follow steps 1 through 3 from above
In a stand mixer with paddle attachment, beat softened butter on medium-high speed while adding in both sugars, beat until creamy, about 2 minutes
Add egg, beat on medium speed until combined, about 1 minute
Add flour mixture slowly, about a third at a time, and beat on low speed until combined
Cover with plastic and chill for an hour*
Follow steps 7 through 11 from above
*A note on chilling time:
I found that in the creamed butter recipe, the dough was too sticky to roll after 20 minutes of chilling, so I decided to chill it for an hour. But does this make a big difference in the final product?
Results: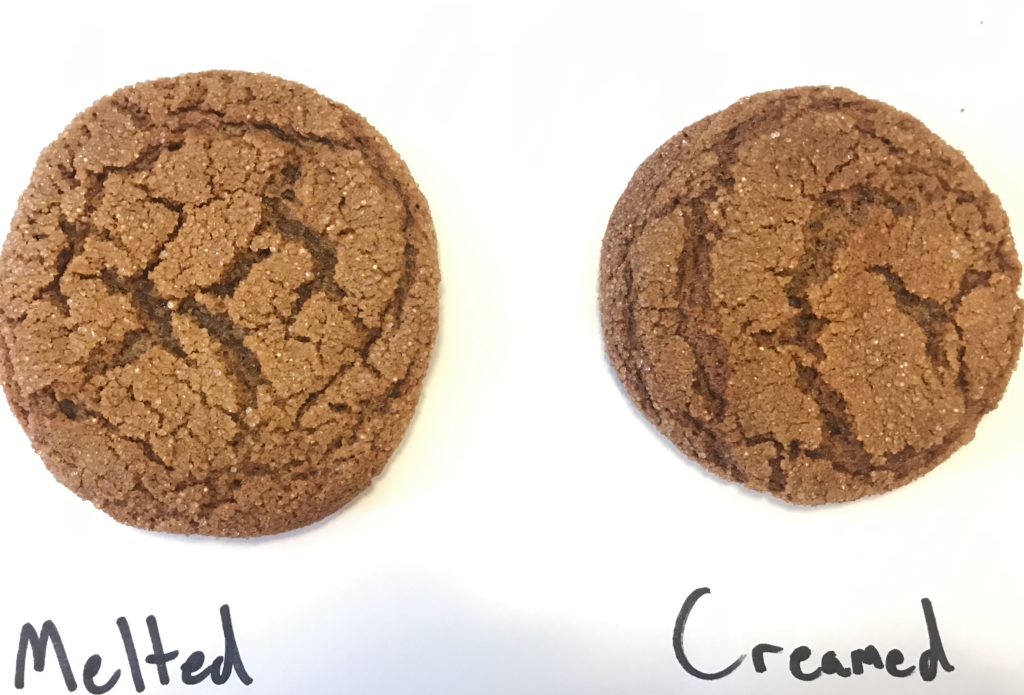 Up until I tasted them, I thought there was going to be little to no difference. The only thing I really noticed while making them was that the dough felt slightly different when rolling them into balls, the creamed butter dough was stickier. But, upon tasting them, there was a huge textural difference, and in my opinion, the melted butter cookie communicated the spices better. Some other tasters, my father for example, said the exact opposite, that the creamed butter cookie was spicier. As far as the texture goes, the melted butter cookie was much chewier, in a good way I think. The creamed butter cookie's texture reminded me of the Nestle chocolate chip cookie texture, not cakey but cakey-er, more cookie like, for lack of better words. You can see in the picture that the creamed cookie didn't spread out as much, which I suspect is part of the reason they were puffier, fluffier.
| | |
| --- | --- |
| Melted butter | Creamed Butter |
| – Thinner cookie | -Slightly puffier |
| -Chewier texture | -Lighter texture, more cookie like |
When I started writing this post, this was about all the information I had on the subject of butter, since then, I've found a perfect explanation as to whats going on with creamed butter:
When you cream softened butter and sugar, the grains of sugar are forced through the fat, leaving millions of microscopic air bubbles in their wake. In the heat of the oven these bubbles expand, contributing to the lightness of the finished product. Room-temperature butter is best for aeration (about 67 degrees). If the butter is too firm and cold, air cannot be incorporated into the fat; if it's too soft and warm, the bubbles collapse.

"Cooks Science" By the Editors of Cooks Illustrated and Guy Crosby, PhD
and melted butter:
Butter softens between 60 and 68 degrees and melts starting at 84 degrees and liquefies at 94 degrees. The water in liquefied butter is helpful in certain applications — for example, mixing with flour to create chewy, not crunchy, cookies. Melting frees up water to hydrate wheat flour and produce stronger gluten, hence more chew in cookies or more structure in bread.

"Cooks Science" By the Editors of Cooks Illustrated and Guy Crosby, PhD
So, the chewiness of the melted butter cookies comes from stronger gluten in the cookie. What I called the cakey-ness, or puffiness, of the creamed butter cookie was a function of the air bubbles, created by creaming sugar into butter, expanding when baked.
Also, the kicked up spices answered the question of "How do you convey the heat of ginger?" It's exactly what I, and probably anybody who took two seconds to think about it, expected, more ginger equals more heat. The heat rang through in both cookies, not on every bite, but just enough that it was enjoyable and the goal was achieved.
Still, unanswered questions remain:
What happens when you use shortening vs butter?
What happens if you use fresh ginger?
And new ones have arisen:
Does what does chilling time effect?
Does chilling time effect the creamed butter differently than the melted butter?
I will have to give my tasters a small break as they have been recently inundated with molasses cookies, but soon enough I'll test these questions too.